ALL OF OUR NORMAL SERVICES ARE RUNNING AS PER PRE COVID-19, WITH A EMPHASIS STILL PLACED ON HIGH LEVELS OF SANITISATION AND CLEANING PRACTICES. WE ALSO STILL ASK THAT YOU CANCEL YOUR APPOINTMENT IF YOU FALL INTO THE CATERGORIES OUTLINED FOR SELF ISOLATION, AS PER GOVERNMENT GUIDELINES.
FOR THOSE ATTENDING OUR CLINICAL EXERCISE CLASSES- WE ASK THAT YOU PLEASE BRING IN A TOWEL AND WEAR SOCKS TO HELP MAINTAIN OUR LEVELS OF HYGIENE.
22 MAY 2020 UPDATE: A CHANGE IN THE FORMAT OF OUR CLINICAL EXERCISE CLASSES
In light of the loosening COVID-19 restrictions, we are now able to offer our clinical exercise classes in their original format.
Over the next two weeks, our group classes will return to three person classes for a one hour session (with physical distancing and santisation practices to remain unchanged).
For those clients still wishing to remain in a one one one class, you will be able to book into our normal private 40 minute sessions at the slightly highter rate.
As normal all of our Clinical Exercise classes are eligible for private health rebates for those with Physiotherapy cover.
Please remember to bring a towel and wear socks and, if unwell, please stay home.
UPDATE: WE ARE STILL OPEN! Impact Physiotherapy, in light of the news restrictions to business, is still seen as an essential service and as a result, we are still able to provide quality, safe and hygienic in clinic patient care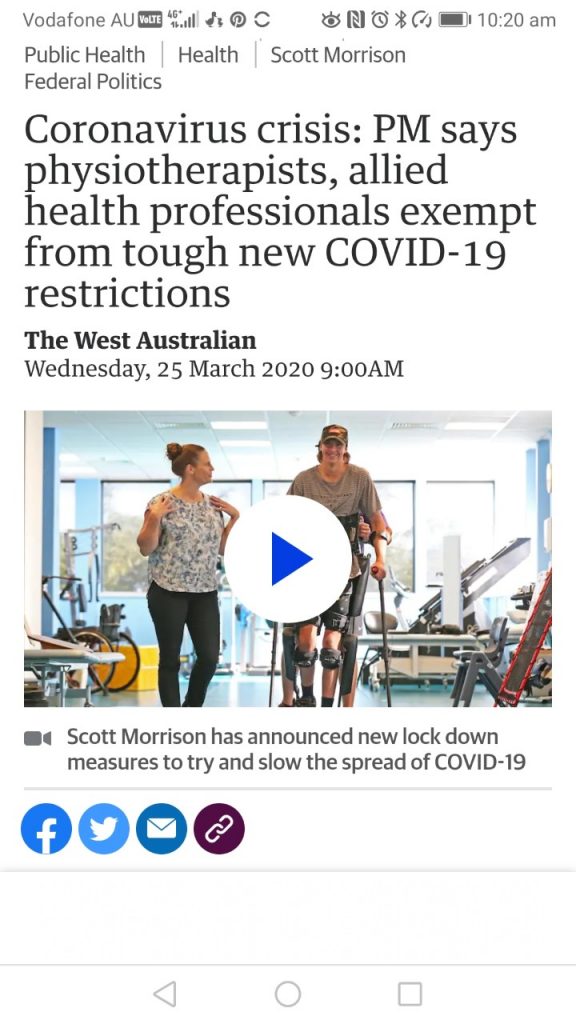 Here at Impact Physiotherapy, along with our local and global communities, we are trying to navigate our new 'normal' in light of COVID-19.
Our aim has always been, and will continue to be, to provide amazing health care to our clients and patients. We now want to ensure our Impact family that our staff and clinic will continue to provide ongoing safe and hygienic services with:
increased access to sanitiser gel for clients and staff
reduced need for staff and clients to come into contact with handles and doors
beds, equipment, exercise equipment, reception desk, multi use items all being sanitised between clients
single use disposable bedding used for each client
Our hands on treatment will be available as normal for new and existing clients. Our hydrotherapy classes are unavailable at this time, due to Government regulations, and we have now altered our Clinical exercise classes so that each class only has two people maximum or one-on-one sessions for 30 minutes. We would appreciate if you could have a read through the Physio Australia guidelines for sanitisation and your individual appropriateness to attend our clinic.
We look forward to continuing to support all of you on your journey of health and wellness.